Meet Our Pastor
Meet Our Pastor
Pastor Esper Ajaj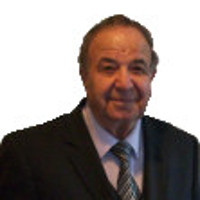 "Brethren, the longing of my heart, and my prayer to God, on behalf of my countrymen is for their salvation." Romans 10:1
Pastor Esper Ajaj was born in Deir-Atiah, Syria, of Greek Orthodox parents. At the age of seventeen, he was invited to an evangelistic meeting being held in the town where he was living. The evangelist spoke on Isaiah 53, and as he went through the chapter, Pastor Esper felt convicted, and accepted Jesus Christ as Lord and Savior.
As a young man, Pastor Esper developed a strong desire to study the Bible, particularly the Old Testament prophecies and their fulfillment in the New Testament. In March of 1954 he immigrated to the United States to study the Bible at Northeastern Bible College where he graduated in 1958. Later he earned a B.A. degree in Biblical Education at Washington Bible College.
While at Northeastern Bible College, Pastor Esper met a young woman, Jean Leivonen of Newark, New Jersey. In 1959 they were married and prepared to go into the mission field. Pastor Esper had intended to return to Syria as a missionary, but God showed him that his mission field was the Arabic people of Washington, D.C. Pastor Esper and his wife were accepted by the Evangelical Baptist Mission Board to be their first missionaries to the Arabic-speaking people of the United States. They established the Arabic Baptist Church of Washington D.C. in 1967.
Pastor Esper has established many outreach ministries targeting the Arabic speaking people in the United States, including: the Arabic magazine Al-Mashal; Bible Conferences; Radio, TV & Satellite broadcast ministries; audio tape, CD & DVD distribution. He has authored many books and pamphlets to provide education and training for Arabic speaking people in their native language on key Biblical principles of salvation, baptism, evangelism and apologetics.
Pastor Esper has a deep desire to expand the ministry to get the Word of God out to the rapidly growing Muslim community in the United States. He also has a particular burden to educate Americans about the Islamic faith to enable them to speak to Muslims compassionately about the love of God. Most importantly, Pastor Esper is praying for God to raise up others with this same passion who will go forth preaching the gospel and winning souls for Christ.